A note about COVID-19 email scams 

Cybercriminals are using coronavirus-themed emails to deliver malware, coronavirus-related investment scams, and scammers who follow the latest headlines taking advantage of clients with fake emails, texts, or social media posts. Ensure your current fraud strategy is set up to help protect you against fraudulent activity and stay up to date with the latest trends for security. If you are one of our clients that has a management contract, you already have extensive security in place. We do however, have even more extensive protection services and training we can provide, please feel free to contact us. If you feel you have been a victim of a scam, please contact our support team ass-soon-as possible by calling our support line or putting in a work order/support ticket.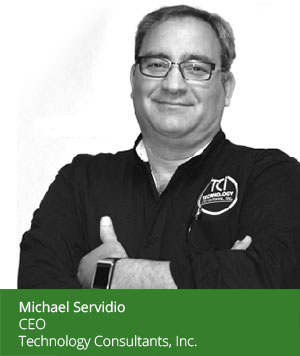 Call Us Today At 802-865-4409
3 Reasons to Trust Technology Consultants
to Support Your Computer Network
A Message from Our CEO:
Maybe you're concerned with the current rising costs of your IT services, or maybe you are just running short on time because of your expanding business and need to hand over the reins of some services to someone else. Whatever your reason, we can help you with quality IT services today.
Your business can save money and time today with Technology Consultants' managed services, network solutions, IT support and more.
Not Ready To Call Us Just Yet?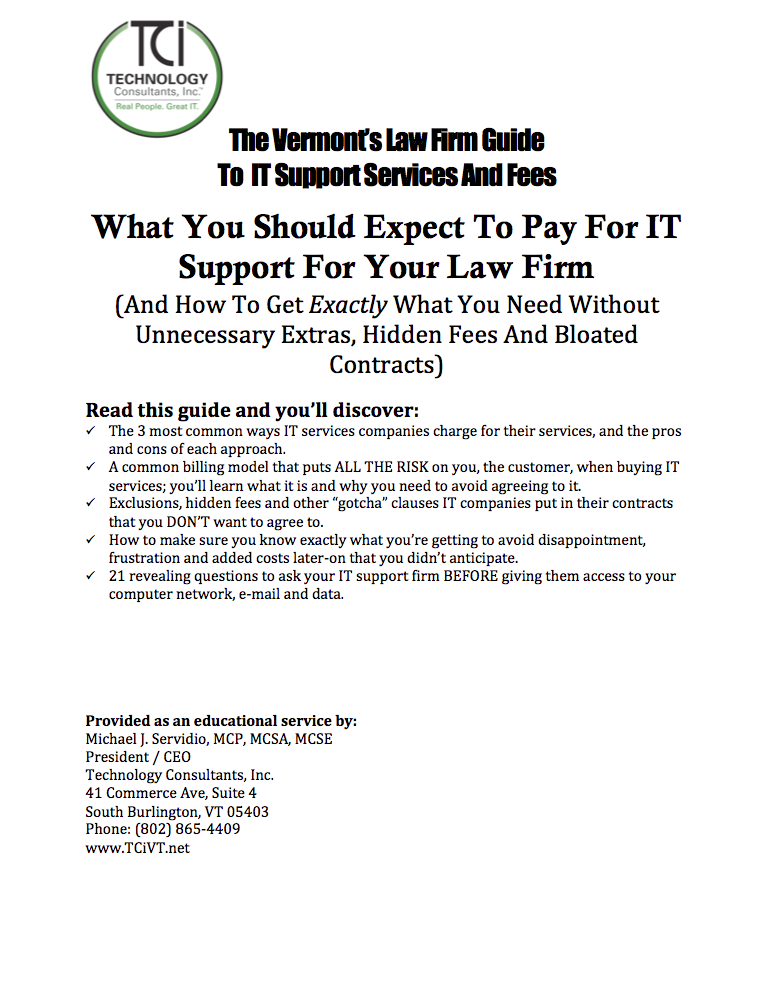 If so, we would at least like to send you a copy of our recently published report, What You Should Expect To Pay For IT Support For Your Law Firm.
Read this guide and you'll discover:

The 3 most common ways IT services companies charge for their services, and the pros and cons of each approach.
A common billing model that puts ALL THE RISK on you, the customer, when buying IT services; you'll learn what it is and why you need to avoid agreeing to it.
Exclusions, hidden fees and other "gotcha" clauses IT companies put in their contracts that you DON'T want to agree to.
How to make sure you know exactly what you're getting to avoid disappointment, frustration and added costs later-on that you didn't anticipate.
21 revealing questions to ask your IT support firm BEFORE giving them access to your computer network, e-mail and data.
Simply fill out the form here and we'll send you a copy today!